Since its birth, the ITS Creative Archive has welcomed some very special guests, all equally struck by the uniqueness of its collection. And rightly so. Unlike no other, it gathers creativity from young designers who, after participating to ITS, built impressive careers in the field. At the same time, it is a showcase of the most interesting young creativity produced in the last fifteen years worldwide, providing not only a window on young talents' minds but a constant source of inspiration for generations to come. This is why we've also welcomed several schools with their students.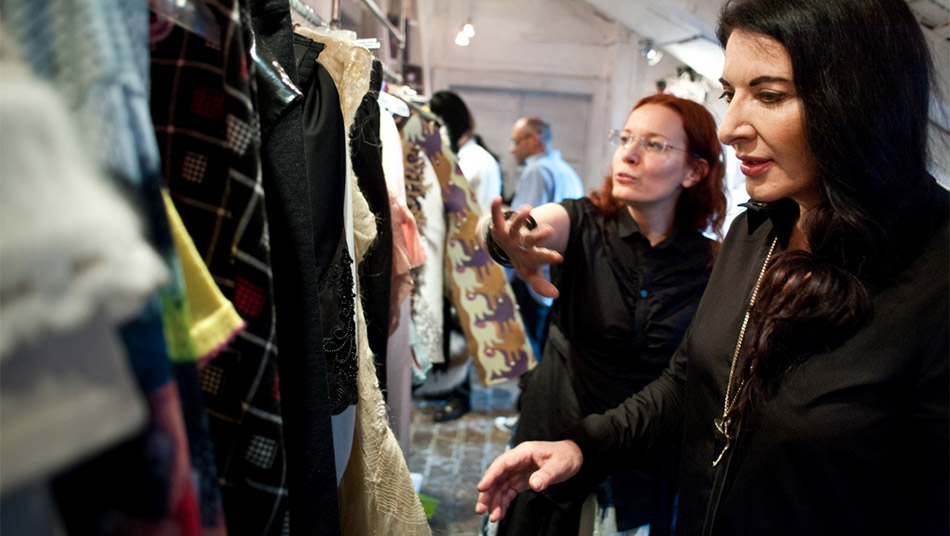 Performance artist Marina Abramovic visited the ITS Creative Archive in 2012 during her participation in the fashion jury, when she personally delivered the Fashion Special Prize assigned to Luke Brook's pure creativity. You can imagine our excitement in seeing her step inside… an icon who has constantly pushed the boundaries of creative thinking, flipping through pages of past finalists' portfolios and rummaging through clothes, accessories and jewelry projects with a smile on her face. It was unforgettable, as her words were about ITS: "I believe it is very important because it is the place where the young talents can meet and articulate their collections. We can really discover their way of thinking, we can see the future of fashion, which is really something unique".
Harold Koda, former curator-in-chief of the Costume Institute at the Metropolitan Museum of Art, arrived at ITS in 2013. The year before he had curated the legendary shows "Schiaparelli and Prada: Impossible Conversations", one of dozens from his amazing career, which saw him witness Diana Vreeland revolutionise the concept of fashion curation working as her assistant. He caught the spirit of the ITS Creative Archive as soon as he entered it: "It holds a history of the recent past with fashion treasures for the future (…), a documentation of the evolution of the most cutting-edge thinking and creation of the best new talents globally. Because it houses the work derived from an international canvassing of the most influential design programs and institutions, the ITS Archive captures in its modest space the most directional and inventive individuals poised at the beginning of their careers. There is no other archive that does this".

Today's Head of the Graphic Arts dept. at Musée Galliera in Paris, Laurent Cotta, also joined the ITS FASHION Jury with Harold Koda in 2013 (and returned the following year as well). Housing permanent collections of French fashion & costume spanning the last 4 centuries, Galliera is entirely dedicated to fashion. Words from such a specific professional in the field acquire even more importance: "I have been deeply impressed by the museum quality of this collection and by its numerical importance. One might think the archives of the several contestants ITS has been welcoming for years now are only the seeds of their creations to come or would only forecast the talent they will develop in the future. They would be wrong considering the maturity and achieved creativity of the pieces ITS is keeping here. It gives a unique panorama of fashion creation in freedom – or pure fashion creation – from contestants from every place and every cultural background throughout the world (…). The ITS Archives are absolutely unique in the world and my only regret is they don't have an exhibition hall to show them to a larger audience as they deserve!".
The Victoria & Albert Museum in London is the world's largest museum for decorative arts and design, housing a permanent collection of over 4,5 million objects spanning 5,000 years. Senior Curator of contemporary fashion at the V&A Oriole Cullen – responsible for exhibitions such as "Hats an Anthology by Stephen Jones" – was struck by the ITS Creative Archive during her visit in 2015, particularly by recognising several names: "Browsing through the rails of the archive one comes across so many familiar names. It is intriguing to see these early pieces, most often painstakingly made by the hand of the designer themselves and to recognise the continued development and progression of certain themes or techniques in the designer's later work. These are the pieces that in retrospect are so hard to find". What also impressed us was seeing her understand the founding reason why we have decided to build this collection: "To collect work at this stage in a designer's career is a brave decision. Will the designer succeed in their chosen career, will they become a celebrated talent or will they disappear from the world of design? The ITS archive is not particularly concerned with these speculative questions because it recognises the value of capturing and recording a moment in fashion, regardless of what the future may bring".
Ms Cullen's point on the uniqueness of housing early work from designers who have then built outstanding careers was equally shared by another prestigious guest we had the honour of welcoming: Valerie Steele, Director and Chief Curator of the Museum at the Fashion Institute of Technology. Ms Steele joined us for the fifteenth anniversary edition. As author, curator, editor and public intellectual, Valerie Steele has been instrumental in creating the modern field of fashion studies and in raising awareness of the cultural significance of fashion, combining serious scholarship (and a Yale Ph.D) with the rare ability to communicate with general audiences. Her point on the ITS Creative Archive after visiting it was very precise: "The ITS Creative is a unique and valuable resource, because it contains looks from a range of international designers at the beginning of their careers". Works from a designer's earliest collections is incredibly rare, and of great interest both historically and in terms of providing inspiration to today's fashion students. The Archive deserves financial support from the fashion industry, in order to preserve and showcase a valuable resource".
Enthusiasm and interest for our archive is shared by fashion schools all over the world, who have been sending their students for organised visits. Dai Rees, Head of Artefact course at London College of Fashion, sums it up well in a message he left in our guestbook: "What a fantastic experience and knowledge base you have produced. I feel honoured to closely examine your wonderful archive. I want to send all my students and staff to see such an amazing body of work". And indeed, the ITS Creative Archive represents a treasure trove of inestimable value for design students. Having the opportunity to browse through the most interesting young creativity produced, touching the actual pieces and taking a close look at specific details, techniques and fabrics used turns into an exclusive design lesson where the objects are the teachers, and where students can understand what has been done, what is possible and what still needs to be challenged. Talking about challenges, the archive can also inspire to improve one's abilities and then take the next step, perhaps with the objective of being part of our collection someday, selected as an ITS finalist.
It's precisely what happened with RCA graduates Helen Kirkum, Marco Baitella, Woojung Jung and Juyeon Hong, who came for a visit in the beginning of 2015 while in their first year at the Royal College of Art. Together with tutor Flora McLean they spent an entire day (watch the video) in our archive exploring its treasures extensively. As a surprise, we had prepared a selection of portfolios from the over 70 RCA finalists we've had in the past, among which are names such as Aitor Throup, Justin Smith, Astrid Andersen, Heather Blake, Hanchul Lee, Mason Jung and Xiao Li. The following year Marco, Woojung and Helen applied and were selected for ITS ACCESSORIES, with Marco winning the ITS ARTWORK Award and Helen the ITS ACCESSORIES Award. They have all often underlined how important their visit to the archive was in convincing them they would do their best to be part of it someday, joining the ITS Family. The Archive itself gave them a tremendous determination to pursue their dream even more, using all their energies to reach their goal.
Maybe you'll be the next one to be inspired by the over 16,000 portfolios, 220 outfits, 180 accessories and jewelry pieces and 700 photography projects.
We were all born to create, and this manifests in infinite ways. Živa, a transdisciplinary researcher, blends science and art, with theories that question our perception of reality. This is the…